Welcome to the Dubochet Center for Imaging (DCI Geneva)
The Dubochet Center for Imaging (DCI) is a joint initiative of the EPFL, the University of Lausanne and the University of Geneva. The DCI is currently composed of two units, the CryoGEnic facility (DCI Geneva) is located in the Science II building of the University of Geneva and the DCI Lausanne (https://www.dci-lausanne.org/) is located at the border between the EPFL and the University of Lausanne..
These two units form the DCI, a service platform for cryo-electron microscopy. The DCI operates several high-end TEM and cryo-EM instruments to study biological molecules, viruses, bacteria, micro-crystals, small organelles, or sections of biological cells or tissues. The DCI has the expertise and is equipped to perform the entire structural analysis pipeline, covering the preparation of the samples, image and tomography data collection with electron microscopes, micro-electron diffraction (micro-ED), computer image processing, and atomic model building.
Offer
The Bioimaging Center - CryoGEnic is providing help at different levels:
Advice for experimental approach and design
Guidance for sample preparation (negative staining, plunge-feezing)
Supervision and guidance for the use of the electron and cryo-electron microscopes
Training: New users are trained on the instruments until they become independent
Data analysis and quantification using dedicated software and GPU workstations
We also establish methods for ultrastructural analysis of cells and tissues
In addition we offer different pre- and post-embedding immunolabeling protocols as well as negative staining
The center is equipped with bench space that is available to users of our service.
Available upon request
Fees and prices
Design and optimization of protocols for complex experiments and applications
Alternative forms of services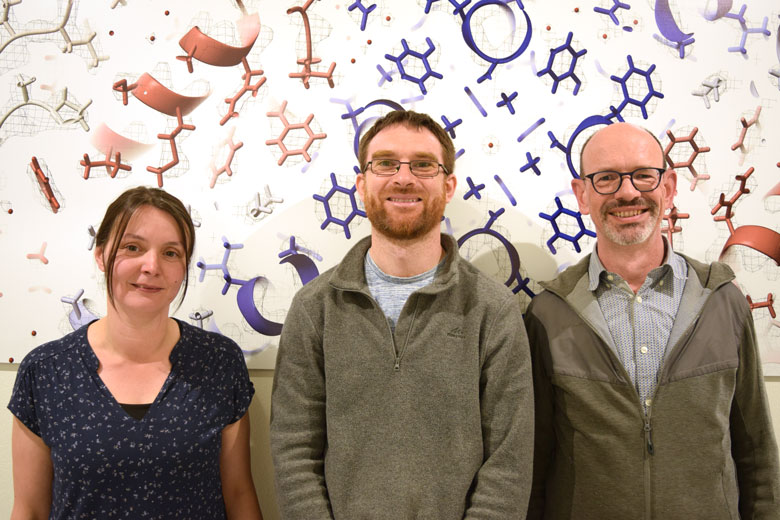 Dr. Celine Besnard, Dr. Andrew Howe, Dr. Christoph Bauer